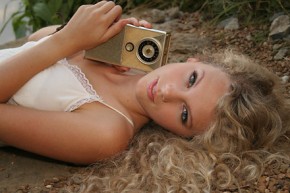 The Other Side of the Door è una canzone scritta da Taylor Swift per la re-release del  suo album "Fearless". La canzone ha raggiunto la posizione numero 22 della Billboard Hot 100 chart.
L'album è stato ripubblicato come "Fearless: Platinum Edition" con 6 nuove canzoni del 26 ottobre 2009.
L'album divenne anche il primo album nella storia della musica per la produzione di dodici Top Hits quaranta.
[youtube XgKYFyvglwk nolink]
Taylor Swift The Other Side of the Door testo canzone video lyrics
in the heat of the fight
i walked away
ignoring words that you were saying,
tryna make me stay
i said, "this time i had enough."
and you've called a hundred times,
but i'm not pickin' up
'cause i'm so mad, i might tell you that it's over
but if you look a little closer
i said, "leave," but all i really want is you
to stand outside my window, throwing pebbles; screaming, "i'm in love with you."
wait there in the pourin' rain,
come back for more
and don't you leave,
'cause i know all i need
is on the other side of the door
me and my stupid pride
sittin' here, alone
going through the photographs,
staring at the phone
i keep going back over
the things we both said
and i remember the slammin' door,
and all the things that i misread.
baby you know everything,
tell me why you couldn't see
that when i left i wanted you to
chase after me?
i said, "leave," but all i really want is you
to stand outside my window, throwing pebbles; screaming, "i'm in love with you."
wait there in the pourin' rain,
come back for more
and don't you leave,
'cause i know all i need
is on the other side of the door
and i scream out the window,
"i can't even look at you, i don't need you,"
but i do, i do, i do
i say, "there's nothing you can say
to make right again, i mean it,
i mean it"
what i mean is
i said, "leave," baby all i really want is you
to stand outside my window, throwing pebbles; screaming, "i'm in love with you."
wait there in the pourin' rain,
come back for more.
and don't you leave,
'cause i know all i need
is on the other side of the door
with your face, and your beautiful eyes,
and the conversation,
with the little white lies.
and the faded picture
of a beautiful night
you carry me from your car
up the stairs
and i'm broke-down cryin'
wish we weren't this messed,
after everything in that little black dress
after everything, i must confess,
i need you