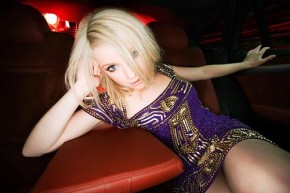 Remedy è il secondo singolo tratto dall'abum di debutto Hands di Little Boots, cantante inglese.
La canzone è stata scritta a quattro mani (Victoria Hesketh and RedOne ) e sarà disponibile nel mercato inglese il 3 Agosto.
Il video è stato girato a Londra ed è stato descritto dallo stesso cantante come "molto più concettuale e molto di più me" rispetto al video New in Town.
[youtube kNZdiVFGWOM nolink]
Remedy Little Boots canzone traduzione testo
Balli mentre mi osservi
Balla col nemico
Ho un rimedio
Ti vedo seguirmi con lo sguardo come un predatore
La tentazione mi chiama come la mela chiamò Adamo
Ma non cederò
Perché riesco a leggere quei occhi vellutati
E vedo solo bugie
Non c'è più veleno ad uccidere I miei sentimenti
Non starò fermo
Ballare è il rimedio
Smettila di pregarmi, non giocherò con te
Non starò fremo
Fammi girare più veloce come un kaleidoscopio
Tutto quello che ho è la pista da ballo
Si, ci puoi provare, ma ho trovato l'antidoto
La musica è la cura
Puoi provare a paralizzarmi
Ma stavolta ne so più di te
E quando la musica finisce
So che starò bene
Ritmi contagiosi nella mia testa
Lasciateli suonare
Remedy Little Boots canzone traduzione testo video lyrics
Move while you're watching me
Dance with the enemy
Ive got a remedy oh uh oh uh oh
I can see you stalking like a predator,
I've been here before.
Temptation calls like Adam to the apple,
But I will not be caught.
Cause I can read those velvet eyes,
And all I see is lies.
No more poison killing my emotion,
I will not be frozen
Dancing is my remedy remedy oh.
Stop stop praying cause im not not playing,
I'm not frozen.
Dancing is my remedy remedy oh.
Move while you're watching me
Dance with the enemy
Ive got a remedy oh uh oh uh oh
Move while you're watching me
Dance with the enemy
Here is my remedy oh uh oh uh oh
Spin me faster like a kaleidoscope
All I've got's the floor.
Yeah you can try but I've found the antidote,
Music is the cure.
So you can try to paralyse
But I know best this time
No more poison killing my emotion,
I will not be frozen
Dancing is my remedy remedy oh.
Stop stop praying cause im not not playing,
I'm not frozen.
Dancing is my remedy remedy oh.
Move while you're watching me
Dance with the enemy
Ive got a remedy oh uh oh uh oh
Move while you're watching me
Dance with the enemy
Here is my remedy oh uh oh uh oh
da da da da da da da da da da da
da da da da da da da da da da
And when the music fades away
I know I'll be ok
Contagious rhythms in my brain
Let it play
No more poison killing my emotion,
I will not be frozen
Dancing is my remedy remedy oh.
Stop stop praying cause im not not playing,
I'm not frozen
Move while you're watching me
Dance with the enemy
Ive got a remedy oh uh oh uh oh
Move while you're watching me
Dance with the enemy
Here is my remedy oh uh oh uh oh
Move while you're watching me
Dance with the enemy
Ive got a remedy oh uh oh uh oh
Move while you're watching me
Dance with the enemy
Here is my remedy oh uh oh uh oh