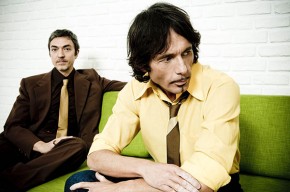 Debutta da un paio di giorni sulle radio italiane "Lost And Found", il nuovo singolo dei Gabin che anticipa il doppio album THIRD AND DOUBLE in arrivo il prossimo 5 Marzo.
Lost And Found ha il compito di aprire le porte del nuovo lavoro e lasciare intravedere la miscela di new jazz, soul, elettronica e funk che ha da sempre caratterizzato la band e che qui trova la sua definizione.
Il videoclip per questo brano è stato girato in questi giorni e sarà presentato a breve.
[youtube ky4IIZMcDrw nolink]
testo gabin lost and found
There in a bot on a shell in it a region no fray
Her ass so big glue and bright sweet in the sun
He says a lot to himself "why did i talk sweet always"
With all those other things i play to forget
Show me a picture can last, but half time
Made those flash,
From the day there in the sun,
Until you're sayin' goodbye.
the all jets in
those lost and found
those things that fell from heart gets to the ground
the first of end
the pratical
waiting till the world to play him come back to land
guitar+ voice choir
She says take him you think i,
I was the last one to know
I could see one was to come
Lonely for you…..
I still remember that day with so much left to say
And just watch ing the times grow
It was'nt so long ago.
the all jets in
those lost and found
those things that fell from heart into the ground
the first of all
the pratical
waiting till the world to play him come back to land
Remember on that in tiv each we say good bye we'll see,,
the all jets in
those lost and found
those things that fell from heart into the ground
the first of all
the pratical
waiting till the world to play him come back to land
Guitar + choir
Just lost and found,come back to land ,just lost and found