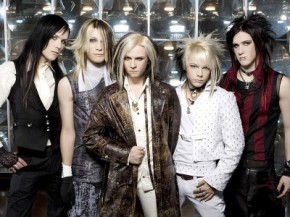 Cinema Bizarre and Space Cowboy è un tedesco glam / pop / rock composto da 5 membri.
Hanno pubblicato il loro primo album nel 2007 e sono noti anche in altri paesi europei come la Francia e la Russia, dove hanno avuto un certo successo. Sembra che hanno cambiato la direzione per il nuovo album.
Ora pubblicano I Came To Party se sarà un successo lo scopriremo presto!
[dailymotion x9ykn1 nolink]
Cinema Bizarre and Space Cowboy I Came To Party
We roll up
Like no one can do it baby
It's lights out
Turn the f**king system up
It's one night
Rolling through your town tonite
So stand up
Space and Cinema Bizarre
So get up
Nod your head and tell me
It's what's up
It's getting hot and heavy
The phone's on
Take a picture we don't care
So get up
Let me hear you sing it out
[Chorus]
I came to party
and you came to party
So why don't we party together
I came to party
and you came to party
So why don't we party together
We all stars
You and me and her together
We go hard
We dont give a f**k whatever
It's one night
Throw your f**king cameras up and
Let's go
It's Cherry Boom and Red One
So get up
Nod your head and tell me
It's what's up
It's getting hot and heavy
The phone's on
Take a picture we don't care
and if you got one
Put your drink up in the air air air
[Chorus]
Doesn't matter anyway
Know that we can't stay
Know you had a boyfriend anyway
Got my picture on your phone
When you're all alone
Know we got to go
Let me hear you sing it out
[Chorus]
Cinema Bizarre and Space Cowboy I Came To Party traduzione
in arrivo…