Tornano i One Republic con Waking Up testo traduzione canzone lyrics video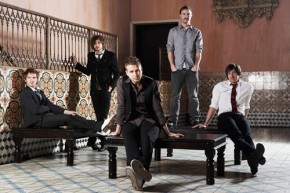 Tornano i One Republic dopo il successo ottenuto con i singoli "Apologize" e "Stop and Stare" tratti dal primo album "Dreaming Out Loud" (ad oggi più di 2 milioni di copie dell'album e 8 milioni di singoli venduti),  con "Waking Up", disponibile in Italia dal 22 gennaio. L'album è anticipato dal singolo "All the Right Moves".
I One Republic, già nominati ai Grammy 2008 come "Best Pop Performance", sono guidati dal cantante Ryan Tedder, di Tulsa, Oklahoma, uno dei più importanti autori di tutto il panorama pop. Ryan ha lavorato con Rihanna, Beyoncè, Kelly Clarkson, Carrie Underwood, Jennifer Lopez, Leona Lewis (con la quale ha condiviso il Grammy come Miglior Disco del 2008 per il suo "Bleeding Love") e altre star.
Il nuovo album "Waking Up", registrato nella città natale di Denver, è il lavoro più cinematografico e travolgente dei One Republic, grazie alla presenza degli archi, di passaggi da film e all'uso del medesimo coro di bambini e orchestra utilizzati dal compositore di Batman ed Edward Mani Di Forbici Danny Elfman (con il quale Tedder ha scambiato alcune idee).
Update 18/10/2010 :Qui rocketeer dei far east-movement con Ryan-tedder