The Killers The World We Live In canzone video testo lyrics traduzione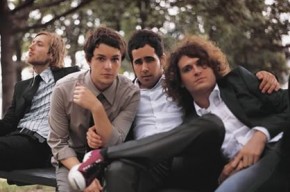 The World We Live In è il terzo singolo della band alternative rock The Killers, estratto dal loro terzo album, Day & Age.
La canzone sarà rilasciata come terzo singolo solo nel Regno Unito e in Europa, negli Stati Uniti e il resto del mondo sarà "A Dustland Fairytale" il terzo singolo dell'album.
Trovate qui di seguito un video amatoriale di The World We Live In, il suo testo e la traduzione.
The Killers The World We Live In canzone video testo lyrics traduzione
This is world that we live in
I feel myself get tired
This is the world that we live in
Well maybe I was mistaken
I heard a rumor that you quit this day and age
Well maybe I was mistaken
Bless your body, bless your soul
Pray for peace and self control
I gotta believe it's worth it
Without a victory,
I'm so sanctified and free
Well maybe I'm just mistaken
Lesson learned and the wheels keep turning
This is the world that we live in
I can't take blame for two
This is the world that we live in
And maybe we'll make it through
Bless your body, bless your soul
Reel me in and cut my throat
Underneath the waterfall
Baby we're still in this
This is the world that we live in
Feel myself get tired
This is the world that we live in
I had a dream that I was falling, down
There's no next time around
A storm wastes its water on me
But my life was free
I guess it's the world that we live in
It's not too late for that
This is the world that we live in
And no, we can't go back
This is the world that we live in
We still want something real
This is the world that we live in
I know that…
This is the world that we live in
The Killers The World We Live In canzone video testo lyrics traduzione
Questo è il mondo in cui viviamo
Sento che mi sto stancando
Questo è il mondo in cui viviamo
Beh forse mi stavo sbagliando
Mi è giunta la notizia che lasci questo giorno ed epoca
Beh forse mi stavo sbagliando
Benedici il tuo corpo, benedici la tua anima
Prega per la pace e l'autocontrollo
Devo credere che sia sbagliato ciò
Senza una vittoria,
Sono così consacrato e libero
Beh forse mi sto solo sbagliando
Lezione imparata e le ruote continuano a girare
Questo è il mondo in cui viviamo
Non posso essere incolpato per due
Questo è il mondo in cui viviamo
E forse lo faremo finire
Benedici il tuo corpo, benedici la tua anima
Tirami su e tagliami la gola
Sotto la cascata
Baby ci siamo ancora
Questo è il mondo in cui viviamo
Sento che mi sto stancando
Questo è il mondo in cui viviamo
Ho sognato che stavo cadendo, giù
Non è rimasto altro tempo
Un temporale spreca la sua acqua su di me
Ma la mia vita era libera
Mi chiedo se è il mondo in cui viviamo
Non è troppo tardi per quello
Questo è il mondo in cui viviamo
E no, non possiamo tornare indietro
Questo è il mondo in cui viviamo
Vogliamo ancora qualcosa di reale
Questo è il mondo in cui viviamo
So che…
Questo è il mondo in cui viviamo